The Big Tea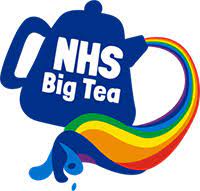 QVH Charity is inviting the community to join with them and take part in the nation's biggest tea break on 5 July to say thank you to the NHS.
Following a year like no other, get involved in a national outpouring of love (and tea) by hosting or taking part in your own NHS Big Tea party at 3pm on 5 July. Each event can be in person or virtual, with your local community, friends, family or at work, and is a chance to reflect and say thank you for everything that NHS staff and volunteers have done and continue to do. And for QVH Charity, it is a way of not only saying thank you but raising money for Queen Victoria Hospital too.
Camilla Slattery, head of fundraising at QVH Charity said "As our hospital continues to strive for innovation and excellence, there will always be a need for those added extras that can make all the difference to the lives of the patients we care for. By taking part in The Big NHS Tea and donating £5 towards our charity, or whatever you can afford, we can ensure we can continue to fund projects that make a real difference to both patients and staff. We hope our wonderful local community will get involved and join us in saying thank you to our local NHS heroes."
If you would like to take part in the NHS Big Tea Party and support QVH:
Plan & Enjoy   – get together with family/friends, hold a fundraiser with a cup of tea at your workplace, organise an event at your school or college, hold a virtual get together or raise a cuppa at your sports club or place of worship!
Donate – once you've held your tea party and collected all your sponsorship money, you can donate to the NHS Big Tea in the following ways:
Online – make a donation to QVH Charity by visiting our JustGiving page.
Cheque – you can make a cheque out to "Queen Victoria Hospital NHS Trust Charitable Fund" and post it to : Head of Fundraising and Voluntary Services, Queen Victoria Hospital, Holtye Road, East Grinstead, West Sussex, RH19 3DZ
Tell us about your tea party! – Once you have donated, rest assured that all money raised will go straight to making improvements for patients and staff. We also want to hear about your preparations, and how the big day went – and of course see any lovely pictures you have of your tea party!
Share them with us by posting on social media with the hashtag #NHSBigTea and tagging us @QVHCharity on Twitter, @qvhcharity on instagram or emailing our charity directly on qvh.supportqvh@nhs.net