Thomas appeal –

NEEDS DONATION FORM
At QVH, we have a volunteer-run annual camp for children who have suffered burns or other physical traumas called CREW Camp. Children like Thomas, who shares his story below…
Five years ago, Thomas wasn't quite three. His mum Carol was about to take her older son to a birthday party and thought she had just enough time for a cup of tea before she left. Boiling the kettle, she poured the water into a mug and turned to get the milk from the fridge. Within those short seconds, Thomas had reached for the mug and poured the boiling water down his front.   
Carol realised quickly that Thomas had serious burns and she needed to call an ambulance. Thomas was rushed to Brighton, where his burns were cleaned and dressed. He slept well overnight before transferring to QVH in the morning. Once with us, we realised how relaxed and calm Thomas was. We were able to use our specialist laser machine to measure how deep his burns were. Poor Thomas had sustained burns that were deep, and in some places, severe.  
We decided that, to begin with, we would dress Thomas' burns to see if they could heal without a skin graft. He would come each day for three weeks to have his dressings changed, and, even though this made him cry, it didn't stop him running towards the Peanut Ward with a big smile on his face and having big cuddles with the team, including nurses Tracey and Sue, who were treating him. Unfortunately, after three weeks, we realised that one part of Thomas' chest wasn't healing and it did require a skin graft.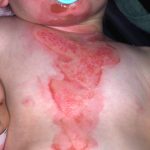 Here at QVH, we are lucky to have one of the leading plastic surgery and burns teams in the country, and we had the specialist equipment, staff and wards to look after Thomas throughout his skin graft. Thomas has gone onto heal well, but the scars will always be a reminder of the burns he suffered.  
CREW Camp – change for a lifetime 
At QVH, we have a volunteer-run annual camp for children who have suffered burns or other physical traumas called CREW Camp. It's something we were keen to include children like Thomas in. CREW Camp is two days and nights of brilliant activities that are, behind the fun, designed to help build confidence and self-esteem, and allow children who might have experienced similar injuries to connect.  
CREW Camp, and other initiatives such as this, can only run through the generosity of people like you, so we would like to ask if you're able to make a donation to support us, and help children from our community like Thomas to meet and connect with children just like him. Healing from life changing injuries is only the start; please give what you can to help ensure Thomas and children like him really overcome them, too. 
Thank you.