Actor Jack Ashton becomes our first charity ambassador
Wednesday 8th August 2018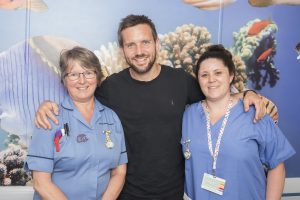 Actor Jack Ashton, best known for playing Rev. Tom Hereward in the BBC television series, Call the Midwife, has given his support to QVH Charity, the charity which supports the works of Queen Victoria Hospital, by becoming its first ambassador.
Queen Victoria Hospital is a specialist NHS organisation providing life-changing reconstructive surgery, burns care and rehabilitation services for people across the South of England. But it's the hospital's proud heritage which goes back to the pioneering treatment of injured WWII airmen by Sir Archibald McIndoe, the group known as the Guinea Pig Club, a legacy which lives on today, that first inspired Jack to get involved.
Jack previously starred in 'The Guinea Pig Club' the theatre production which told the story of the pioneering plastic surgery and psychological support given by the hospital during WWII. And that's where he found out about the real impact Queen Victoria Hospital had and continues to have.
Speaking of his new QVH Charity ambassador role, Jack said: "I know the history of the Guinea Pig Club well and have been fortunate to meet a few of them in real life. Their outlook on life after the horrific trauma they sustained and pioneering treatment they received at Queen Victoria Hospital was nothing but inspirational. Since then I've had the pleasure of visiting the hospital and chatting to staff and have seen for myself what an incredibly special place it is.
"I'm excited to give my support to QVH Charity to help them continue to raise money to support the hospital by funding ground breaking research, providing equipment not routinely funded by the NHS, and make sure patients have the best possible experience of hospital."
Camilla Slattery, Head of Fundraising for QVH Charity, said: "We're delighted that Jack is QVH Charity's first ambassador. Queen Victoria Hospital has a proud heritage and is known throughout the world for pioneering new and innovative techniques and treatments which help rebuild lives every day. With the help of Jack and our supporters we're passionate about raising as much money for the hospital as we can."