Help bring our virtual QVH Christmas tree to life..
Wednesday 23rd November 2022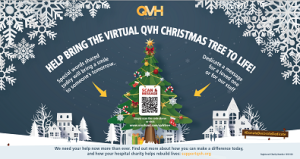 Dedicate a message for a loved one or leave a message for our staff. This has been another challenging year but you can help spread some joyful messages with our virtual Christmas tree.
Let's get together and help spread some festive cheer.
By lighting up our tree you are supporting our wonderful hospital that cares for our loved ones all year round.
We will be sharing your messages to staff and patients who are in hospital over the holidays. Make sure you follow us on Instagram @qvhcharity, Facebook @supportqvh or twitter @qvhcharity. We will be sharing pictures of those staff/teams who receive messages.
Simply visit: www.visufund.com/qvhtree
Thank you and Merry Christmas!
Camilla, Rachael and Emily  – QVH Charity and Volunteer team