Welcome to QVH Charity
Queen Victoria Hospital puts lives back together.
The charity funds important initiatives like medical research projects to find new treatments, providing more and better equipment as well as improving patient environments. The donations received make a real difference to the care the hospital can provide to patients who have been devastated by their injuries.
Every day the hospital provides life-changing surgery and care, free of charge to every NHS patient who needs us. We are committed to improving hospital facilities and supporting projects that fall outside of core NHS funding.
Queen Victoria Hospital is a specialist NHS hospital providing life-changing reconstructive surgery, burns care and rehabilitation services for people across the South of England. Our world-leading clinical teams also treat common conditions of the hands, eyes, skin and teeth for the people of East Grinstead and the surrounding area. In addition we provide a minor injuries unit, expert therapies and a sleep service.
Your support really will make a difference.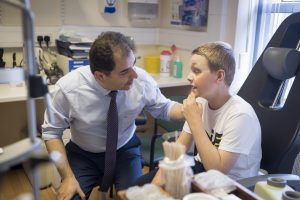 Registered charity no.1056120
Marking the 72nd birthday of our beloved national health service with a special thank you
Read how we're able to make a real difference at Queen Victoria Hospital thanks to you